T

he release date for the Zombie slash Apocalypse party had been changed so many times there was reason to believe it might be a fake social event altogether. For absolute certainty, she looked down at her own grubby sneakers, but imagined a pair of Christian Louboutin Marlenalta Platform Pumps for $1,045. She'd seen a pair in this fancy re-sale shop. Were they her size ? Of course not ! Plus, who'd ever invite her to a fancy event, where pumps would be required ?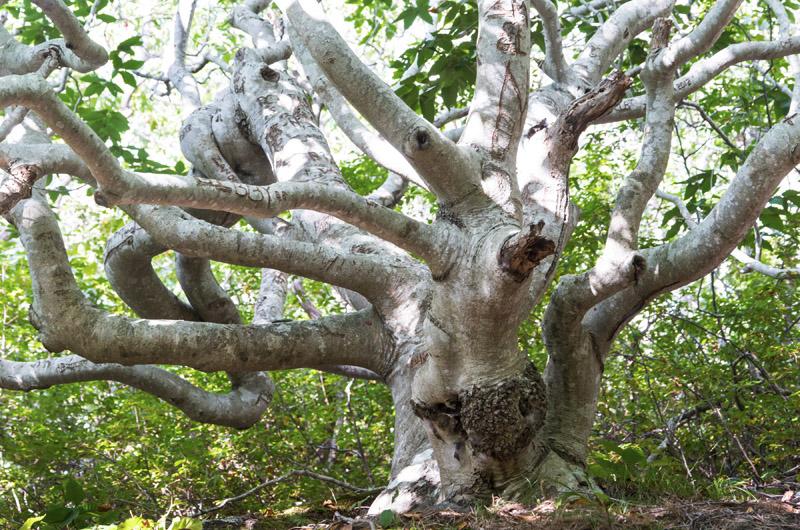 H

er eyes tracked the shadow's 2 dimensional impersonation of the tree's squat and twisted form. She relished looking at the beech's gnarled, silvery, scarified trunk. The massive buttressed
base seemed to be formed by oozing lava. Wondering - should a tree's perfect life be to grow in poetry with nature, never to be marked by the hand of a young adolescent experiencing teen angst, puppy love or infatuation or lust ? No - wait - strike lust, that's too much work and the wrong context for lust. That's why they have bathroom stalls she thought. Ah-hhh...contextual perfection.

This silver beech was located at the wooded perimeter of school grounds. Standing a majestic 40 feet tall and least 4 or 5 generations old she guessed. It was quite accessible and located where young ne'er-do-wells would smoke cigarettes and weed. Unknown souls had carved, with the authentic intent of making a lasting declaration. For some, it was just idle moments, incising or desecrating the trunk with names, initials and graduation dates; but not hate. Save hate for those middle school walls. It was too much work to carve hate.

She knew what she must do. Like a mountain climber, she charted her route. Each handhold and foothold would take her to the very spot where she made her own declaration of love. As she approached the tree she saw the aching sadness of hearts "X" out. Of initials that no longer added up to forever. The lowest branches nearly touched ground, so simply stepping up into one of many crotches or "Y" formations of branch to trunk, propelled her skyward. The pumps would never had worked; but she was still thinking about them. Up the tree she went, feeling the texture of the trunk with her hands as she climbed. Her hands were no longer soft, delicate or innocent. She liked the way her gold band harmonized against the silvery grey tree skin.
Only this silver beech tree offered her the perfect qualifications. This tree and this love would prevail. Symbolically their love would rise above the lower echelons of love, adoration or infatuation. She hated hearing couples describing each other as my soul mate, She was too old and too jaded to think true love meant everlasting. Love muffin made her chuckle inside.
After a few minutes of climbing she looked down and thought, I'm pretty high up, one misstep or broken branch or the wrong move would result in catastrophic injury. All of a sudden, she felt the tree move, leaves rustling; insisting it was a living thing too. Looking up to the leaf canopy, it was like a cathedral of green, silver and golden blue sky, breaking through the leaf mosaic.
She was at the juncture where two moves would get her to where she wanted to be. The first move was the trickiest. Standing with both feet on one branch, left hand reaching above for a stabilizing hold; then reaching around the trunk and grabbing a branch with her right hand and swinging herself over to the distant branch. It was dicey move, that would only work unless, she totally committed. She tried to push thoughts of falling out of her head. She swung hard to her right, catching her right foot on the new limb, then swinging her body across - she made it. Going down would be easier. Now, she moved to the branch above, straddling, then scissoring her legs - and - she was there.
Nervously she surveyed the trunk for her own revelation. It had been 4 years. Two really good ones and 2 really bad ones. She had picked this spot for its privacy; you had to be a bit of a dare devil to
get up here. The view was not great, but it was really the east facing alignment she desired. As the sun was descending from the sky, she could feel the warmth on her back. The knife she used to carve "l'armour fou" was in her back pocket. Not really sure why it was there ? Maybe she hoped for a reason to add some spontaneous new markings that would break the evil spell ? As she straddled, the branch she looked straight ahead, where she had spent hours carving "crazy love" into the silvery beech.
As she looked at what 4 years had done to her beautiful scribing, she ran her fingers over the dark bumps and nature's flagellation. Against the bright silvery grey bark black knotted sutures rose painfully above the beech's grained skin. Was this the way of nature or had incredibly hideous ravens peck and stitch the tree leather, closing this wound off from the world of the real ?
Four years later, her incised proclamation in beautiful italics, now looked like waves or "rollers" is what her brother called them - big ocean waves that had dissipated as they came closer to shore. Sadly it penned their own romantic story. So, this was the truth, this was reality. The ballots were cast and the votes were in. Nature never lied. She straddled her branch for a long time before she started her descent.